Bitbucket Pipelines Config Validator
This Bitbucket Pipelines config validator tool can help you check your bitbucket-pipelines.yml file before you bother committing and pushing. (And spending build minutes). If you're going to be playing with the examples in this course, I suggest you paste them in the validator before running them, at least for a while until you are more familiar with the config syntax.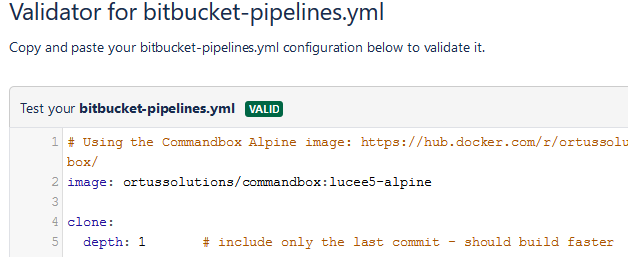 Bitbucket Pipelines Speed Tips
With Bitbucket Pipelines, build time matters because build minutes cost money. Here's a few quick tips to keep your build times low:
Use "Pre-warmed" Alpine Docker Images
In CommandBox parlance, "pre-warmed" means that a specific version of the Lucee server is copied into the image, unpacked, and ready to start before you ever pull down the image to your local machine. For Docker newbies, this just bootstraps the Lucee server startup time with no effort on your part. To use a pre-warmed commandbox docker image, we'll use the lucee5-alpine image tag, which specifies a pre-warmed Lucee 5 server installed on Alpine Linux, which is a light Linux option for the Docker image base.
Build Your Own Docker Image
All of the examples in this course are based on the Ortus Solutions CommandBox Docker image. This image optimizes the CommandBox startup time, so every pipeline step using this image will run faster than they would after a manual install in the pipeline, for example.
To further speed up your pipelines, you might consider building your own Docker image to install fixinator, commandbox-cflint, and any other system modules you may use in a pipeline. This should speed up the install of those modules during the pipeline - although, to be fair, I haven't tried it myself. :)
Limit Clone Depth
Use the clone depth global option to limit the number of git commits to clone into the pipeline container. Unless you plan to be running git commands like git revert <commit> or git checkout <commit> during your build (I don't!), you should be able to speed up your pipeline through this simple config tip.